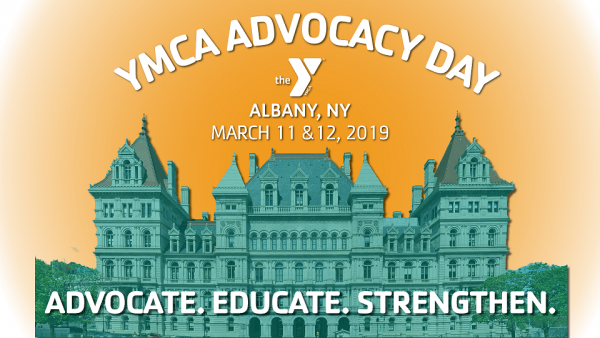 2019 YMCA Advocacy Days
Join us in Albany for YMCA Advocacy Days on March 11th and 12th, 2019! Having you advocate alongside us is a critical component to ensuring that the Y is able to secure the State Budget Priorities that we will be educating legislators on. Click here to register today for YMCA Advocacy Days!
YMCA Advocacy Days Schedule:

Monday, March 11:
3:30-5:00 PM: Advocacy 101 and Strategy Briefing
5:00-7:00 PM: Y Advocates & Legislator Reception

Tuesday, March 12:
8:00-9:30 AM: Y Advocate Breakfast
9:30 AM-1:00 PM: Y Advocate Meetings with Legislators and Capitol Breezeway Tabling
Important Event Information:
BUDGET PRIORITIES:
Click here for the Alliance's 2019 YMCA Budget Priorities.
LEGISLATIVE MEETINGS:
Schedule your meeting time with your Legislators for March 12th. THE EARLIER, THE BETTER. We emphasize reaching out to schedule your meeting with your Legislators as soon as possible because that earlier that you do, the more likely it will be to meet with your official rather than a staffer. You can either call their Albany offices or send a meeting request letter. Below are a couple of resources to help you schedule your meetings:
Advocacy Day Meeting Request Letter Template
OVERNIGHT ACCOMMODATIONS:
For those who will be staying overnight, there are a number of hotels options right in downtown Albany. NOTE: The Alliance encourage making your overnight reservations as soon as possible as these rooms will book up quickly.   Downtown Overnight Accommodation Options: Renaissance Albany Hotel: $332 per night Hilton Albany: $299 per night Hampton Inn and Suites – Albany Downtown: $225 per night Fairfield Inn & Suite Albany Downtown: $206 per night Holiday Inn Express Albany – Downtown: $207 per night   In addition to the hotels mentioned above, there are many options for hotels surrounding the downtown area.
Additional information and resources will be added to this page as we get closer to the event. Thank you and see you in March!