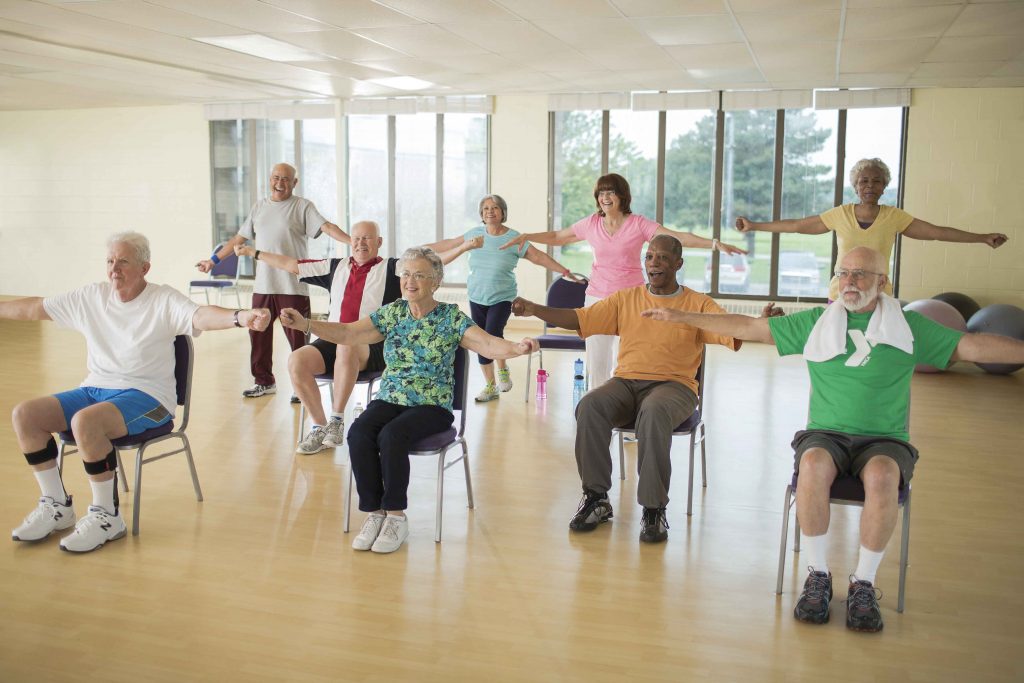 To learn more, click on the …
EnhanceFitness is an evidence-based group exercise program developed by Sound Generations, Inc. that uses simple, easy-to-learn movements that motivate older adults to stay active throughout their lives.
The Centers for Disease Control and Prevention (CDC) has recommended EnhanceFitness as an effective arthritis management intervention, and while the Y's EnhanceFitness program is geared toward supporting those who struggle with arthritis, the program may be suitable for any older adult.
According to the CDC, arthritis affects 54.4 million US adults, more than 1 of 4. The program is facilitated by certified Instructors with training in group exercise, arthritis conditions, and the EnhanceFitness program curriculum and is conducted in a small, supportive group setting. The instructor will safely lead the class through an hour of dynamic exercises at a pace that's right for the participants.
In a class, participants will experience a:
Certified Instructor with special training in bringing out the physical best from older adults
5-minute warm-up to get the blood flowing to the muscles
20-minute aerobics workout that gets participants moving, or a walking workout to lively music that the class chooses
5-minute cool-down
20-minute strength training workout with soft ankle & wrist weights (0-20 pounds)
10-minute stretching workout to keep the muscles flexible
Balance exercises throughout the class
An atmosphere that encourages social interaction, which is a vital part of health and well-being for older adults
In studies, participants experienced:
13% improvement in social functioning
35% improvement in physical functioning
53% improvement in depression
26% decreased risk of a fall
fewer hospitalizations and $945 less in health care costs per year than non-participants