Anti-Hunger Programs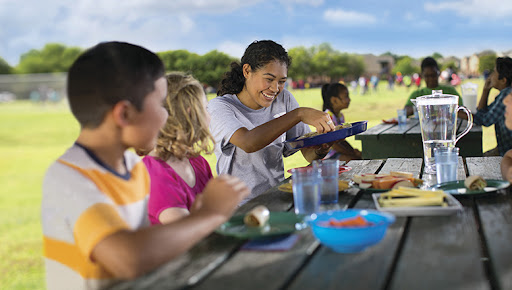 As families and communities strive to recover from the health, educational, and economic impacts of the COVID-19 pandemic, hunger remains a persistent reality for many New Yorkers. As trusted community centers, Ys can help families connect with federal nutrition programs that alleviate hunger, including:
SNAP
The Supplemental Nutrition Assistance Program (SNAP) is our nation's first line of defense against hunger, providing monthly food benefits to eligible households. In most counties across the state, local Nutrition Outreach and Education Program (NOEP) Coordinators provide community-based outreach, education, and one-on-one assistance to help potentially eligible New Yorkers apply for SNAP. All services are free and confidential.   
What can Ys do?
Partner with your local NOEP Coordinator for outreach resources and opportunities to connect families with SNAP; visit FoodHelpNY.org to find your NOEP Coordinator.
If your Y works with older adults, consider joining Hunger Solutions New York's free SNAP and Seniors Professional Network to receive the latest SNAP policy updates, targeted outreach materials, resources, and technical assistance with the common purpose of ensuring every eligible senior receives SNAP benefits.
WIC
WIC provides pregnant women, new and breastfeeding moms, and children under age 5 with healthy food (bought at stores using the eWIC debit-like card), breastfeeding support, nutrition advice, and referrals to other services. NYS WIC serves over 350,000 New Yorkers, but could serve twice as many, including dads, grandparents, guardians, and others who can apply for WIC for children in their care. Because of the COVID-19 national health emergency, families can get services and eWIC benefits remotely, via telephone, text, or videoconference. And through the end of September, WIC moms and kids are each getting a big boost in their fruits and vegetables benefit – now $35/month/person on their eWIC card to buy favorites and try new ones.
What can Ys do?
Inform families with children under 5 that they may be eligible for WIC, and spread the word about WIC's safe remote services and boosted benefits. Visit WICHelpNY.org and its Resource Center to learn more and access outreach resources, available in English and Spanish.   
Summer Meals
Many schools and community organizations – including Ys! – provide free, healthy meals for children and teenagers during the summer break, when kids lose access to school meals. Summer meals mitigate learning loss, support healthy development, and add value to summer programming.
What can Ys do?
Afterschool Meals
The Child and Adult Care Food Program (CACFP) provides funding for healthy food served to children and teenagers in eligible afterschool programs. Serving healthy meals and snacks helps ensure kids are ready to focus and engage beyond the school day. 
What can Ys do?
Child Care Meals
CACFP also funds healthy food in eligible child care centers and day care homes. Participating providers receive reimbursement for healthy meals and snacks they serve to children in their care.
What can Ys do?
Pandemic-EBT
Pandemic-EBT (P-EBT) provides food benefits to children who qualify for free or reduced-price school meals and had reduced in-person school attendance due to COVID-19. Families can use P-EBT benefits to buy food at stores that accept SNAP. There is no application for P-EBT; benefits are issued automatically to eligible children.
What can Ys do?
School Meals
School breakfast and lunch are critical to student health and well-being, especially for low-income students. Research shows that participation in school lunch reduces food insecurity, improves dietary intake, reduces obesity, positively impacts health, and leads to a better learning environment.
What can Ys do?
Raise awareness of the availability of school breakfast and lunch, and encourage eligible families to apply for free or reduced-price school meals; this flyer can help spread the word.
Questions?
Contact Krista.Hesdorfer@HungerSolutionsNY.org
Hunger Solutions New York is a statewide non-profit organization dedicated to alleviating hunger. We promote awareness of hunger, participation in federally funded nutrition assistance programs for all who are eligible, and public policies that contribute to ending hunger. We also raise awareness of the health, economic and educational benefits of anti-hunger programs. For more information, visit www.HungerSolutionsNY.org.